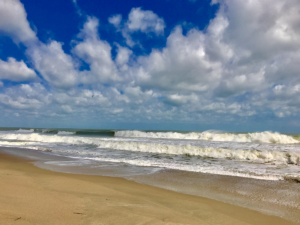 Note by Ken: This was added only to get a feel of what the house might look like with 3 rooms, meaning 3 pages.
The home page is static and it is the 1st page a person would land on when they visit your site.
The background page is setup to be the 2nd page, which is also a static page. You can change the order of any pages at any time, as you add additional pages. If you look to the right, you will see "Order with a 2 typed in the box. This tells wordpress to put this page as number 2. You can also change the page name, just by changing the name above.
The 3rd page is where you could write your posts, if you want to have a blog. The order of the pages can be any combination and some pages can sit below others. In word press it is called having a parent page. Example, if you had 2 pages below the background page, you would call the background page the parent.
Few sites to review quickly to help give you ideas.
The website you sent to me, http://meghanglenday.com/, is 5 static pages. There is no blog, and there is no reason to have a blog with postings unless you want. Nice clean site.
On HeyQuim, when you go to this page, http://heyquim.com/healing-vibrations/,  it is her postings. She does not call it a blog, and there is no reason to call postings a blog. She calls it "sharing with you".
On Karen's 2 sites,  https://dearsourcesignal.blogspot.com/   and  http://kiattaforever.blogspot.com/, .
kiatta-forever is her 1 page blog. Source-signal is a few static pages, no blog and/or posts.
I am listing these with links only for information and it allows you to look at what you like, and don't like around the fit, form and function of a few sites you have visited.